Leaf Spring Manufacturing Equipment
Since the day of establishment in 1910, Morita & Company has greatly developed with growth of Automobile industry. Our achievement and its originality has been approved as a leading brand for spring manufacturing machines, and M&C brand has gained high trusts internationally.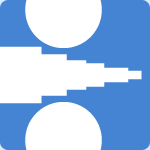 STEP 2TAPER ROLLING
Taper Rolling Machine
The material of leaf spring can be tapered thinly by pressure of taper roll.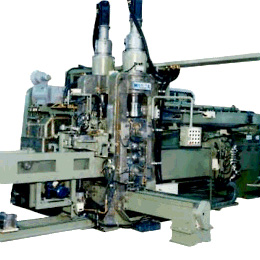 CNC Taper Rolling Unit for Leaf Spring
LTP202R
Overview
This machine performs to roll a heated end of raw material of leaf spring to a tapered shape. Taper rolling is done by upper and lower working roll(round shape) and a draw bench. Any shape of taper can be formed by CNC control of up/down movement(Electric Servo System) of an upper roll. Consequently, this machine is most suitable for parabolic taper rolling. This machine has a capacity to store a shape data of many types of products.
Constitution
Parabolic Taper Rolling Machine
Loading Device
Draw Bench and Extracting Device
Roll Assembly Exchanging Device
Material Supplying Device (Option)
De-scaler (Option)
Transfer Device for Next Process (Option)
Specification
*Table can be scrolled horizontally
Specification of Product
Leaf Width
44.5~125mm
Leaf Thickness
Max. 50mm
Material Length before Rolling
800~2000mm
Length after Rolling
1000~2500mm
Tapered Length
Max. 1500mm
Numbers of Pass
Max. 10 passes
Specification of Machine
Rolling Capacity
60,000kg
Up/Down of working roll
AC Servo Motor Drive
Rotation of working roll
Variable Speed Motor Drive
Draw Bench
AC Servo Motor Drive
Clamp of Draw Bench
Hydraulic Drive
Transportation and Positioning
Motor & Pneumatic Drive
Cycle Time
Taper length 800 - 1,000 mm: (7.2-8.0 sec) x pass no. + 7.5 sec
Taper length 300 - 500 mm: (5.7-6.5 sec) x pass no. + 7.0 sec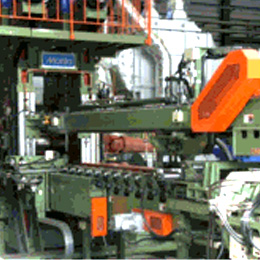 Fork Arm Rolling Machine
LTP405
Overview
This is rolling machine to roll the leaf thickness and width of heated fork arm material. The width is rolled by squeezing roll, and the leaf thickness is rolled by working Roll & Draw bench. The tapered shape can be formed by NC for up/down movement of upper roll (Electric servo system) without changing forming dies. This machine has a function to storage the product shape data of a various kind.
Constitution
Squeezing Device
Squeezing Roll Changer
Insertion Device
Fork Arm Rolling Device
Draw Bench & Ejecting Device
Roll Ass'y Changer
Material Feeding Device
Descaler
Product Number Marking Device
Conveyor for Next Process
Specification
*Table can be scrolled horizontally
Specification of Product
Leaf Width
70~90mm
Leaf Thickness
34~106mm
Material Length before Rolling
900~2200mm
Number of Pass
Max. 15 passes
Specification of Machine
Rolling Power
250,000kg
Up/Down Working Roll
AC Servo Motor Drive
Working Roll
Rotational Variable Speed control Motor Drive
Draw Bench Drive
AC Servo Motor Drive
Draw Bench Clamp
Hydraulic Drive
Conveyor/Positioning
Motor & Pneumatic Drive
Contact us
0568-77-1241FAX: 0568-73-5272
E-mail
Sales and Marketing Dept. Machinery Division