Leaf Spring Manufacturing Equipment
Since the day of establishment in 1910, Morita & Company has greatly developed with growth of Automobile industry. Our achievement and its originality has been approved as a leading brand for spring manufacturing machines, and M&C brand has gained high trusts internationally.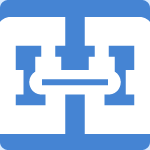 STEP 4EYE FORMING
Eye Forming Unit
This machine automatically forms heated end of leaf springs into eye shape.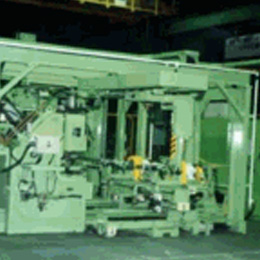 Eye Forming Unit
N505E-2
Overview
This unit is a automatic equipment to roll an heated end of leaf spring to eye shape. Pre-bending/end cutting and eye rolling is separated as two processes. As a forming jig is simple construction and its change can easily done, a change-over is very short and cost saving can be expected. A production data is input by ten key method. This data can be stored in memory for each type of product.
Constitution
De-palletizer (Option)
Extracting Device from End Heating Furnace
End Bending/End Cutting Machine and Positioning Device
Loader, Unloader
Eye Forming Machine and Positioning Device
Unloader
Scrap Conveyor (Option)
Pool Conveyor (Option)
Palletizer (Option)
Specification
*Table can be scrolled horizontally
Specification of Product
Leaf Thickness(Eye Rolling Part)
5 - 16 mm (Max. 35 mm at Center Part)
Leaf Width
Max. 35mm
Material Length before Eye Rolling
45~101.6mm
Eye Span after Eye Rolling
1000~2300mm
Specification of Machine
End Bending/End Cutting Machine Leaf Clamp
Hydraulic Drive
End Bending /End Cutting
Hydraulic Drive
Eye Forming Machine
Grip for Rolling
Hydraulic Drive
Rolling
AC servo motor drive
Leaf Support /Berlin Eye
Hydraulic Drive
Cycle Time
Normal Eye 9 - 10 sec (about 300 eye/Hr.)
Berlin Eye 13 - 16 sec (about 200 eye/Hr)
Contact us
0568-77-1241FAX: 0568-73-5272
E-mail
Sales and Marketing Dept. Machinery Division