Leaf Spring Manufacturing Equipment
Since the day of establishment in 1910, Morita & Company has greatly developed with growth of Automobile industry. Our achievement and its originality has been approved as a leading brand for spring manufacturing machines, and M&C brand has gained high trusts internationally.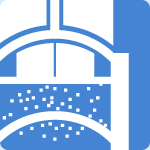 STEP 5CAMBER FORMING AND QUENCHING
NC Camber Unit
This equipment makes a whole heated leaf spring into camber form by using universal die (Jack type). The formed leaf will be transferred into quenching tank.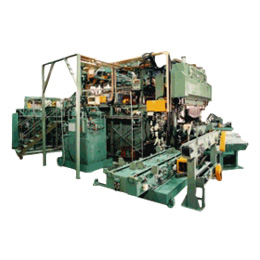 NC Camber Forming Unit
CLF220R
Overview
This machine is an automatic equipment to make camber forming of a whole heated leaf with a formed ends with a system that takes up a material, turns it over if necessary, positions it, loads it to NC camber forming machine, forms it to a preset camber shape, takes it out from a camber forming machine and transfers a formed leaf to a specified position of a customer's quenching machine. Camber forming die has a function to make a setting any camber shape by NC control.
-Camber form setting method
Curvature is formed by positioning a jack one by one, which is unclamped by a curve setter being NC controlled.
-Input method of curvature
Input can be done according to CRT indications for each product by a personal computer. Maximum saving capacity is 9999 types of product.
Constitution
Extracting Conveyor from a Heating Furnace (Option)
Loader to Camber Forming (with Turnover Device)
End Form /End Cut /Positioning Device
Longitudinal Positioning Device
NC Camber Forming Machine
Unloader from Camber Forming Machine
Exchanging Device of Camber Forming Die (Option)
Specification
*Table can be scrolled horizontally
Specification of Product
Leaf Thickness at End Part
6~22mm
Leaf Thickness at Center Part
10~40mm
Leaf Width
60~102mm
Total Span before Quenching
650~2200mm
Camber R
Min. 600mm
Specification of Machine
Ram Pressing Power
Max. 15,000kg
Pressing Power for Center Part
Max. 10,000kg
Forming Die
Universal Type for Upper and Lower
Cycle Time
10~14 sec.
Contact us
0568-77-1241FAX: 0568-73-5272
E-mail
Sales and Marketing Dept. Machinery Division