Leaf Spring Manufacturing Equipment
Since the day of establishment in 1910, Morita & Company has greatly developed with growth of Automobile industry. Our achievement and its originality has been approved as a leading brand for spring manufacturing machines, and M&C brand has gained high trusts internationally.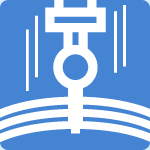 STEP 7FATIGUE TESTING
Fatigue Testing machine
This machine is generally used at a research and develop department in our customer. It can test the fatigue of leaf springs.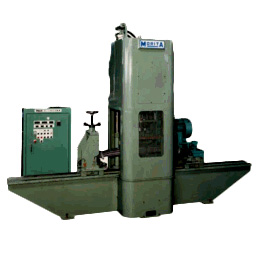 Fatigue Testing Machine for Leaf Spring
FH15A
Overview
So far a fatigue testing machine is generally used at a research and develop department of the company. If a fatigue test could be easily carried out in the production line, it is useful to increase a quality of spring. This machine was developed to meet this purpose and has following characteristics. "Spring is tested under a pre-set load. If spring is fatigued during testing, a load is automatically compensated and test is continued under a constant pre-set load." This machine adopts a hydraulic method and solved the general disadvantages of a hydraulic method such as energy loss, difficult maintenance, use of special hydraulic unit by a new development of special components and hydraulic circuit. Further, a power unit is energy saving type and its maintenance cost is nearly same as one of mechanical type.
Constitution
Fatigue Testing Machine
Spring Supporting Jig
Safety Cover
Specification
*Table can be scrolled horizontally
Specification of Machine
Capacity
15,000kg
Ram Stroke
Max. 200 mm
Number of Stroke
Max. 90 s.p.m.
Contact us
0568-77-1241FAX: 0568-73-5272
E-mail
Sales and Marketing Dept. Machinery Division